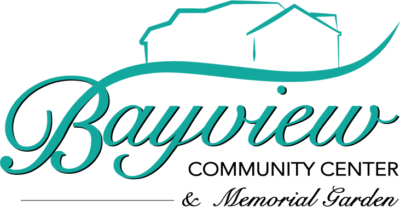 Good news, the Bayview Community Center is reopening for small group use, as of Monday, May 18, 2020. The guidelines for all groups preparing to begin is as follows:
Groups must be 10 and under in number to qualify for use inside the Center.
A facilitator for each group must be named and will hold the key.
The facilitator is responsible for the group, maintaining social distancing and face mask rules.
If the facilitator is changed the Center Manager must be notified.
The facilitator is responsible to ensure that the Center is cleaned and disinfected in all areas used/touchedincluding bathrooms and entrance and exit door handles in accordance with the CDC's guidelines.
The facilitator will lock all doors once the group begins and no other individuals will be allowed to enter.
The facilitator (or his/her assignee) will sign off on the clean-up sheets upon leaving.
The group will provide their own disinfecting, cleaning products and will remove all trash from the Center as a result of their cleaning.
Larger groups meeting solely outside of the Center but using the bathrooms are subject to all of the above guidelines.
Equipment used by the group may NOT be stored in the Center. 
The kitchen area is off limits to all groups and only the plastic yellow chairs may be used for any meetings requiring chairs.
The facilitator will enter into a signed agreement with the Bayview Community Center on behalf of the group agreeing to the above stipulated guidelines.
Any group not returning requested agreement and named facilitator will not be allowed to meet until the Center has the required documentation requested. 

If any user of the Center tests positive for Covid-19, the board will close the Center down for full quarantining (a minimum of 14 days) and until such time that it is determined safe to reopen.